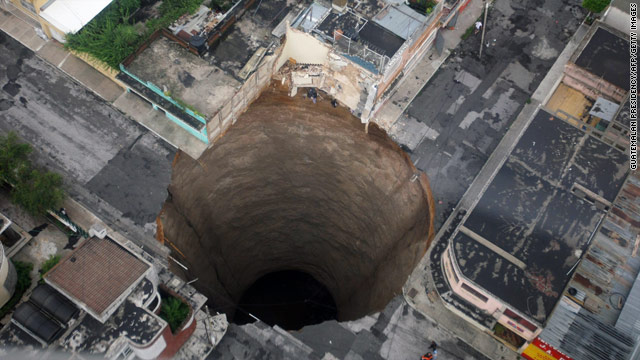 ... Photoshop? This could be something right out of "Journey to the Center of the Earth", the Sci-Fi Channel movie-of-the-week or the latest cgi-screen grab from the "Independence Day" filmmakers.

Nope, it's none of the above.

According to CNN, this is the real thing. The office of Guatemala's president handed out this aerial view of a crater that opened up after Agatha hit. This phenomenon knows as a sinkhole apparently swallowed a three-story building, not that you can see anything down there in its maw. And it may be responsible for the deaths of the still-unaccounted for missing. Guatemala is no stranger to monstrous sinkholes. Only a few years ago they had to contend with this killer beast:




When these hit in southern California, I remember billboards in the surrounding areas showed a sudden increase in insurance advertising after a couple Suburbans were swallowed up. But in the land of the beautiful they had the City of L.A. to bill for their losses. In Guatemala, they don't have something like insurance to cover even a bicycle that may have vanished into the earth, let alone provide for a family who lost their bread-winner.

I've seen the eyes of the survivors of storms that cause the earth to open like this... and all I can think is.. Did you look into the abyss? Or did the abyss look into you?